What's your dog's story?
Whether you are an experienced dog owner looking for support with complicated behavioral issues, or a new dog owner needing help with basic training, Lisa Schroeder of Tails of Success Dog Training has customizable programs for every stage of the dog/owner relationship.
Need help with your dog? Contact Lisa here.
Lisa took time to really understand our frustrations, goals and commitment to helping these dogs.  She took her time observing us, the dogs and our interaction as a family.  She was encouraging and made us feel that there was a light at the end of the tunnel, that we were doing some things correctly, and most importantly, that she would help us get where we needed to be.
Moose
Got kids AND a dog? You need FAMILY TRAINING!
Ready to turn your dream picture of the perfect family dog into a reality?
I have ALL the tools and support you'll need to make it happen.
Check out the video below to find out about our specialized fun, effective and 100% positive family training package.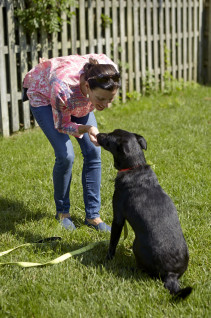 Training Programs
Tails of Success Dog Training provides personalized private sessions that are tailored to fit your dog, your needs, your lifestyle, and your schedule.  Lisa is devoted to dogs and committed to you. She will work with you at your dog's natural pace using the effectiveness of positive reinforcement for training and behavior modification.
Lisa's goal is to help dog owners and families successfully communicate with their dogs and to provide the stimulation and structure necessary to:
Help your dog be a source of daily joy

Be rewarded with endless amounts of unconditional love that will last a lifetime

Enable a strong healthy relationship between you and your dog
Have questions? Click here to get in touch!
"Two Paws Up!" – See what keeps those tails a waggin'!